Mission statement for Custodial Trades
Our custodial trade's department's mission is to provide the school sites, within Morongo Unified School District, to be an attractive, clean, and safe, environment, to provide the best possible conditions for the students to learn.
Since 1985 we have based our methods from the "SUPER ACE" (Assistant Custodial Expert) program. Our Custodial Methods Hand Book is a modification of this program giving our custodial staff the pure basics of how we operate, our scheduling of cleaning classrooms, and other areas within the district.
We also provide the civic guidelines for public use of our school sites. Providing and setting up the many requests for the public's usage of our facilities and maintaining community relations as set by board policy (BP 1330) and education codes.
Our faculty are well trained and are always eager to serve their school sites to the best of their abilities, with the time allotted. We currently have 49 staff members, both full time and part time, to serve the various sites.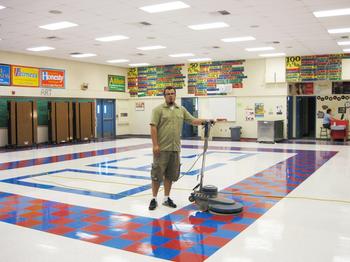 Mike Montoya, Senior Custodian, TPJHS
Phone: (760) 367-9191
Fax: (760) 367-1041
Brenda Barker Andrews
Custodial Trades Supervisor
Office: -- x 4235
Vacant
Custodial Trades Foreman
Office: -- x 5104